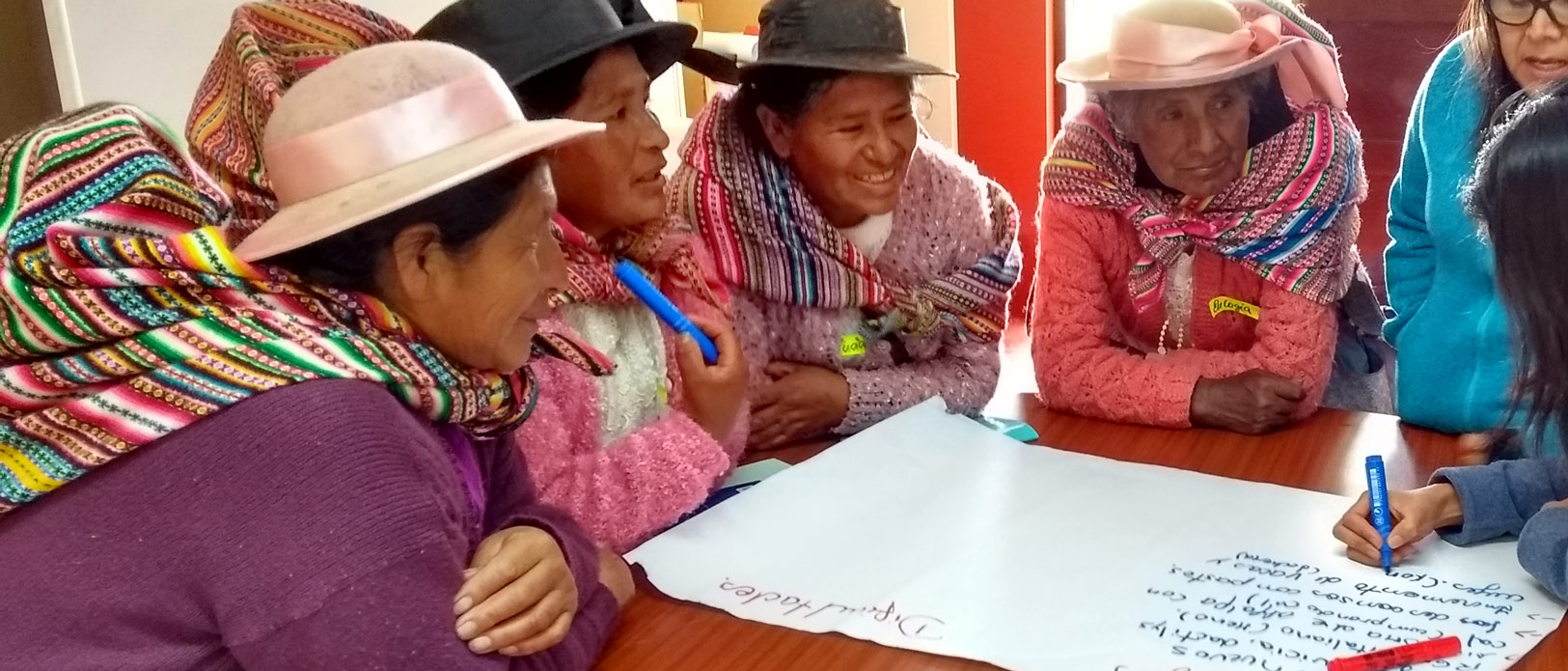 Farmer Research Networks
Online FRN Gathering
October 25–27, 2021
Farmer-centered research for agroecology: Transforming research, reimagining food systems.
---
Since 2012, the CCRP has been developing the idea and practice of farmer research networks (FRNs), or a set of farmer groups that conducts agroecological research of relevance to their members. FRNs typically work in partnership with researchers, development organizations, farmer organizations, and/or broader networks. Because each FRN develops in response to its own contexts and opportunities, FRNs are diverse, varying in their structures, aims, and organizational and leadership models. They are aligned, however, by their adherence to a set of principles (see below) and by sharing experiences and learnings.
Vision for FRNs
FRNs aim to enable large-scale farmer participation in agroecological research and development in a way that enhances the agency of participants. They are envisaged as a social innovation that supports the agroecological transformation of smallholder agriculture and food systems. They play key roles in visualizing and working toward the future that farmer groups desire for their farms, landscapes, livelihoods, and food systems. Through individual and collective prioritization, learning, investigation, and adaptation, farmers can inform and inspire each other, improve the multidimensional performance of their production systems, and own the process and products of agroecological intensification.
FRNs strengthen rural organizations while contributing to more relevant research that considers local contexts. FRNs and the knowledge they produce can represent a broad range of farmers as well as diverse ways of knowing. The networks' collective action can more effectively match agroecological options to various social and biophysical contexts.
FRNs amplify the impact of farmer-centered innovation systems and allow farmers to tap into existing knowledge. They rely on their own experiments to learn and test new ideas, but also learn from others in their networks. Recent digital advances allow for the sharing of information in new ways. A learning network enables ideas and methods to be tested, shared, discussed, adapted, and potentially utilized.
FRN Development
FRN projects exist in all of the regions the CCRP supports. About 60 projects are currently working within a FRN approach. Each project focuses on a different topic, engages different stakeholders and partners, and is led by a different research institute, NGO, farmer organization, or federation.
As this timeline shows, from 2013 to 2020, a process of learning and sharing perspectives and understandings has evolved as FRNs have developed. This has been supported by two FRN convenings, a FRN working group, topical groups (such as a data group), and in-depth inquiries and learning syntheses. Each FRN is engaged in its own learning and development, which is periodically shared with the broader network of FRNs across the program. Increasingly, the CCRP is also connecting with like-minded researchers and practitioners from other local, regional, or global organizations who can inspire our continued development.
View the FRN timeline here
CCRP's work on farmer research networks is guided by a set of principles:
Farmers who represent the social and biophysical diversity of their communities participate in the whole research process.
Research is rigorous, democratized, and useful, providing practical benefits to farmers as well as insights on biophysical and social variation.
Networks foster collaboration and opportunities for learning and knowledge sharing.
To see the full set with sub-principles, click here
The past half century has seen farmers' roles gradually shift from passive recipients to active participants in research intended for their benefit. FRNs further strengthen the role of smallholders. Despite their importance, small farms' heterogeneous needs and opportunities are poorly served by the centralized, transfer-of-technology approach that dominates agricultural research. The CCRP supports research that advances agroecological farming, enabling smallholder farmers to adaptively blend local and experiential knowledge with knowledge produced through scientific methods. This develops adequate approaches to improving livelihoods and supporting sustainable agroecosystems.
A range of challenges remain. How, for instance, can successful experiences and arrangements be shared and spread? How can ideas, information, and data be efficiently shared among farmers and groups? How can access to innovations be equitably ensured? How can effective feedback and accountability systems between those involved be built? FRNs work to address these challenges in the agricultural research and development system.
Developmental Evaluation Processes for FRNs
From 2015 to 2017, the integrated monitoring evaluation, and planning (IMEP) team led a deep dive into four FRN projects. This enabled the program to learn more about FRN development processes, the ways in which FRN principles were shaping the work, and challenges faced in implementation. The work was periodically brought to the working group to inform discussions and, in 2018, a synthesis report was written to share the learning up to that point. Four projects were part of the deep dive:
Participatory Action Research FRN in Bolivia
FRN-NGO in Western Kenya
Best Bets FRN in Malawi
Seed Systems in Mali and other West African countries
FRN Working Group
The FRN working group began meeting in 2015 to discuss FRN development and learning processes as well as other emerging topics. It broadened and became more inclusive over time, as people with different connections to the CCRP began attending, participating, and sharing their reflections and work related to FRNs. The group is experimenting with providing simultaneous interpretations for English, Spanish, and French to make it a more inclusive space linguistically.
The FRN working group meets monthly. Here is a list of the main agenda items beginning in January 2019.
To see presentations made by project teams to the FRN working group, go to the FRN Resource Library.
If you are interested in participating, please contact Mary Richardson.
Data Topical Group
The FRN data topical group, a subgroup of the FRN working group, aims to bring researchers, practitioners, students, farmers, and other stakeholders together to share experiences on data and information flow in farmer research networks (FRNs). The data and information flow entail everything from the process of planning and designing research, data collection, analysis, interpretation, and report writing, to closing of information loops through results and dissemination and feedback outputs.
FRNs are guided by principles as outlined here to enable and guarantee research rigor and effectiveness and to bring about change in smallholder farmers' livelihoods by improving their food and nutritional security using agroecologically driven approaches. The Group provides learning opportunities and a platform to discuss challenges and solutions in the data flow process to enhance its impact and that of the overall research.
For more information about the Data Topical Group, click here.
If you are interested in participating, please contact Nuru Kipato.
By the Numbers
Of the approximately 525 million farms worldwide, 404 million are 2 hectares or fewer.
Family farms produce more than 80 percent of the world's food in value terms, confirming family farming's central importance in world food security today and for future generations. – FAO 2019
FRN projects are active in all countries that participate in CCRP's regional communities of practice.
This project operates in a relatively isolated region of Bolivia—two municipalities within the Department of Chuquisaca—where many members of farming households have migrated permanently. Farmers produce various crops, including potato, chile, maize, and groundnuts, both for sale and household consumption. Groundnuts are often the only cash crop, and many farmers grow organically specifically for the export market. To date, the project has focused on different themes of interest to these farmers, including organic peanut production (preferred varieties and management of pests and diseases) and an assessment of the agroecological systems functioning in their farms (exploring ecological/productive, economic/participatory, and cultural/organizational dimensions).

Read Full Story

FRN–NGO operates in Kenya's lake zone, one of the most densely settled parts of the country and a region where poverty, natural resource degradation, and food insecurity levels are high. Challenges include scarce land and water resources, declining soil productivity, high pest and disease incidences, changing climatic conditions, and limited access to resources for women, who are the main drivers of agricultural production. People are highly dependent on farming for their livelihoods, and rains are becoming less predictable and crop failures more frequent.

Read Full Story

With high population growth, large proportions of rural populations, and high levels of malnutrition, including micronutrient deficiencies, Mali and the Sahel region in general rank among the lowest on the United Nations Human Develop­ment Index. Seed Systems in Mali is a long-term project now led by Baloua Nebie following Eva Weltzien-Rattunde's retirement from ICRISAT in 2016. It focuses on various aspects of participatory breeding for improving sorghum- and millet-based systems in the Sahel region. The project has from its inception in 2006 worked with a network of large farmer organizations in all three West Africa CoP countries. The research network orientation taken by this project was seen as a promising approach for building capacities for expanding farmers' seed systems. A key aspect was to expand farmers' capacities in terms of increasing the crop and varietal diversity in their systems. A network of variety testers, seed producers, and seed marketing specialists was built within these farmer organizations to enhance the reach of the seed.

Read Full Story