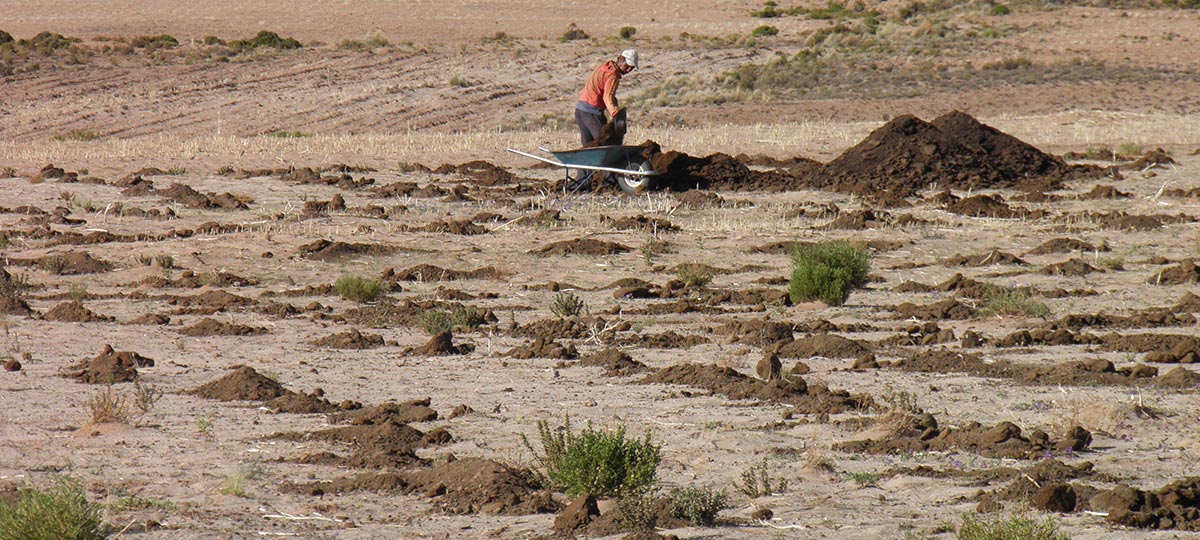 Agro2EcoS: Agroecological Valorization of Ecological Sanitation Waste
Lead Organization:
Institut de Recherche pour le Developpement
Duration:
11/2020—11/2021
Overview:
The management of waste is a global problem. The composting of organic waste (human excreta, domestic organic waste) and its reutilization as a soil amendment can provide an economically viable, ecologically interesting and healthful option for reducing waste accumulation. It also provides an alternative to the use of chemical fertilizers that are not only expensive to buy but also can have severe negative impacts on soil quality and fertility over the long term. Indeed, soil degradation and desertification are increasingly pressing issues for which urgent action is needed as has been recently underlined by several high level, international reports (IPBES and IPCC).
Application of organic compost can provide an excellent opportunity to improve soil carbon and nutrient contents as well as helping to reduce off-site contamination of adjacent water resources. While the reutilization of waste (human, domestic, livestock) to make compost for soil fertilization is an ancestral technique, its application in modern systems is much less widespread in the present era of chemical fertilizers. The reasons for this are multiple and are, in part, linked to a combination of a perceived lack of raw material availability, sanitary and manpower concerns, cultural or social taboos or because chemical fertilizers are promoted as a better option by agricultural outreach services. Yet, it has been shown in a wide range of fundamental and applied research situations that compost addition can result in improved soil quality, higher water retention, and, hence, better plant production.
Many rural and urban communities in the Global South do not have access to adequate sanitation. Rates of open defection can exceed 80% in some areas leading to contamination of surface waters (rivers, streams) that many local populations rely on for their domestic requirements. While ensuring an adequate access to sanitation for everyone will take many years to attain, ecological toilets provide an interesting option, particularly in arid/semi-arid regions where the scarcity of water supplies means that using water to supply flush toilets is not an option. Ecological toilets are dry toilets and the waste is collected in a section (or drawer) of the toilet. This material can then be removed and composted. To reduce any potential risks to the population, the re-use of the compost needs to be done in such a way as to ensure the sterilization of any human pathogens in the compost. Protocols relating to these methods have been identified and are in application by several NGOs working on this subject in other regions of the globe ('Soil' in Haiti and 'Bucket Revolution' in Brazil, for example). However, more work needs to be conducted to define and translate these protocols into local environmental and cultural settings, such as are found in the arid/semi-arid areas of West Africa.
Grant Aims:
The objective of this proposal is to hold an interactive, multisectoral meeting and workshop on the subject of ecological sanitation and its use in an agro-ecological context. At the end of the meeting, our goal is to have the skeleton of a research proposal. By employing a collective -intelligence approach that stimulates the exchange and emergence of ideas from a cross-cutting, multi-sectorial group we aim to attain a strong proposal framework.
Outputs and Outcomes:
After the meeting, we expect to have a co-constructed project in an initial format with the different research axes defined and the participants and PI's clearly identified.
The outcome of this meeting will also be the construction of a strong, region level network of researchers, associations and farmers who want to work together to define how ecological sanitation can be used to improve soil productivity, address sanitation problems and improve human livelihoods and health by creating a new circular economy from waste.
At present, several of the identified participants know each other in a bi-lateral context, it is anticipated that at the end of the workshop these binary associations will be extended to for a network with strong interconnections between each participants.
We will also propose the co-writing of an article on the re-use of ecological sanitation for a scientific community readership and for the wider public readership in both English and French. For the wider public readership such outlet could be the website "The Conversation" that exists in both French and English provides a interesting format similar to that of quality newspapers. Other similar local outlets will be identified with the West African partners.