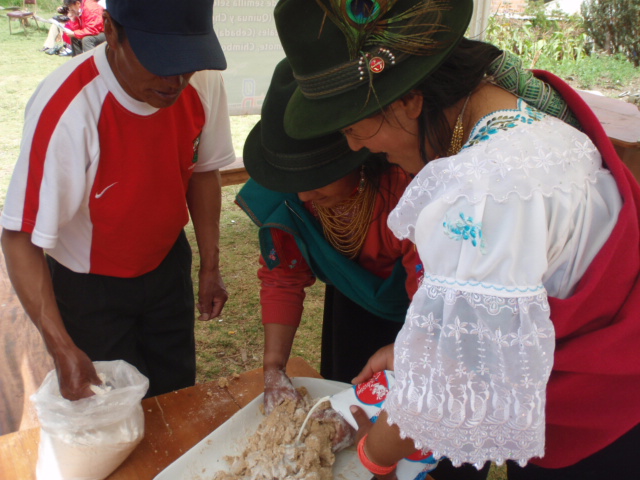 Community baskets
Lead Organization:
Fundacion EkoRural
Community of Practice:
Countries:
Ecuador
Duration:
11/2009—11/2011
Overview:
The community basket movement consists of consumer buying groups that collectively buy produce at a reduced price. The first community basket was started over 18 years ago in Central Ecuador and the movement has grown to 6 cities and has become increasingly popular among consumers as well as at the local and national governmental level. Currently, most of the community baskets around the cities of Quito and Riobamba purchase bulk produce from wholesale markets, but they are interesting in buying directly from small scale farmers. Most farmers in the project area (Central Ecuador) are either abandoning agriculture in favor of more lucrative opportunities through migration, or are participating in extractive commodity markets characterized by high use of agrochemicals and low amounts of negotiating ability for the farmers, thus community baskets represent a mechanism for reversing this trend.
EkoRural is conducting a pilot project with one community basket and two rural communities to aid and document the connection of the farmer groups to the basket with the intention that the initiative could be scaled up in the future. EkoRural works with farmer groups to facilitate the direct connection between farmers and consumers as primarily a way to increase farmer income with secondary benefits such as improved food security, agroecological practices and agrobiodiversity conservation.
Specific activities have included calculating fair prices, planning staggered production, achieving proper quality, negotiation between farmer groups and baskets and forming new markets that have little competition to foster learning and success.
Grant Aims:
Facilitate the process of direct connection between groups of small farmers with consumers in the Community baskets to strengthen local food systems.
To support small-scale producers and their organizations in the planning of production and distribution of various agricultural products to the Community Basket.
Strengthen the organizational and administrative processes of the participating producer groups to enable consolidation and the establishment of long-term sustainable relationships with local markets (eg baskets, local governments, farmers markets).
To document and systematize the process of linking farmers with the Community to gain insights on Baskets, promote exchanges and the dissemination of innovative experiences, where farmers and consumers are able to collaborate in a systematic way.
Outputs and Outcomes:
New farmer market established in Salcedo.
Innovative system for staggered planting and communal production devised.