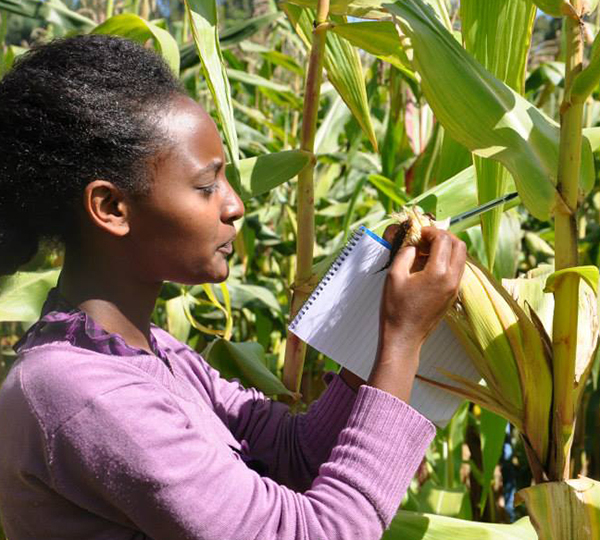 ISD II
Lead Organization:
Institute for Sustainable Development
Partner Organizations:
Woldia University, Wollo University
Community of Practice:
Countries:
Ethiopia
Duration:
11/2016—11/2018
Overview:
In a bid to tackle the destructive effects of the parasitic weed striga and stem borers in small holder maize and sorghum fields in the Wollo region of Ethiopia, the Institute for Sustainable Development (ISD) has been promoting Push-Pull technology (PPT). PPT, developed by the International Centre of Insect Physiology and Ecology, is a novel ecological pest management strategy that uses intercropped push plants (specifically desmodium, a forage legume) to repel or "push" stalk borer and suppress striga and attract or "pull" forage grasses that attract/trap stalk borers. After ISD observed farmers modifying the standard package by reducing the number of forage grass rows, ISD, Wollo, and Woldia Universities formed a joint research project in 2014, with McKnight Foundation support, to test if the farmers' modifications still provided stalk borer control. Unfortunately, the rains failed and the trial results were inconclusive.During the inception phase, the project developed good working relationships amongst its members. However, the approach lacked a mechanism by which farmers could be able to systematically exchange ideas and results among themselves, as well as with the researchers and other stakeholders. The group therefore proposes a new phase of work whereby a groups of PPT-practicing farmers and interested non PPT-practicing neighbors form a Farmer Research Network (FRN) to enable interaction and mutual learning. Existing clusters of PPT farmers and their local farmer training centers would provide the "nodes" of Farmer Research Groups (FRGs) that would then be linked in a wider network with mechanisms developed for regular dialogue and exchange visits. Ensuring women's involvement will be an important aspect of the project, considering their key roles in crop management, such as choice of crop variety and seed saving as well as in feeding domestic livestock.Different segments of the society—women, men, children, youth, and elders—have various roles, ownership, and decision-making power, including in farming. Accordingly, their evaluation and perception of any technology varies, which in turn influences the adoption of the technology. In this applied research project, the project team hypothesizes that including all relevant segments of the society in the participatory evaluation of PPT will facilitate and accelerate technology dissemination and knowledge sharing among project partners. Full participation of both women and men will enhance the evaluation, development, and adoption of PPT and will ensure that farmers develop confidence and ownership of adapting technologies. This in turn is likely to stimulate further innovation and sustained engagement of additional farmers as well as better support from other stakeholders. For example, farmers in the Axum area observed that maintaining Desmodium between rows of tomato after the maize harvest appeared to suppress the parasitic weed Orobanche. Such observations can be used to develop research protocols with farmers that both produce valid data and provide additional value for the Desmodium component in PPT. With farmers deeply involved in naming and framing the research problems, immediate practical application of the results becomes more likely.This project focuses on CCRP's principle of full participation by bringing together researchers and farmers to learn from and understand each other for effective implementation of push-pull and other useful technologies.
Grant Aims:
Expected outcomes include the following:Confidence and ownership of the process by farmers adapting PPT, which in turn can stimulate further innovation and sustained engagement of additional farmers as well as better support from other stakeholdersGenuine and fruitful interaction between and amongst farmers, extension staff, researchers, and other stakeholdersGreater capacity amongst farmers on how to conduct research relevant to them in their context and researchers and extension on how better communicate to farmersImproved understanding of researchers, extension staff, and farmers on how to interact with women and men farmers, accommodating their different roles in the research protocol Measurable outputs include the following:Three FRNs established in the Oromia Special Zone, South Wollo Zone and North Wollo Zone of the project locationImproved management of the Orobanche weed in fava bean fields using PPT approachesInteractive platforms that bring together groups of farmers into a Farmers' Research Network for increased use of Push-Pull Technology (PPT) and other agricultural technologies
Outputs and Outcomes:
Expected outcomes include the following:
Confidence and ownership of the process by farmers adapting PPT, which in turn can stimulate further innovation and sustained engagement of additional farmers as well as better support from other stakeholders
Genuine and fruitful interaction between and amongst farmers, extension staff, researchers, and other stakeholders
Greater capacity amongst farmers on how to conduct research relevant to them in their context and researchers and extension on how better communicate to farmers
Improved understanding of researchers, extension staff, and farmers on how to interact with women and men farmers, accommodating their different roles in the research protocol
Measurable outputs include the following:
Three FRNs established in the Oromia Special Zone, South Wollo Zone and North Wollo Zone of the project location
Improved management of the Orobanche weed in fava bean fields using PPT approaches
Interactive platforms that bring together groups of farmers into a Farmers' Research Network for increased use of Push-Pull Technology (PPT) and other agricultural technologies