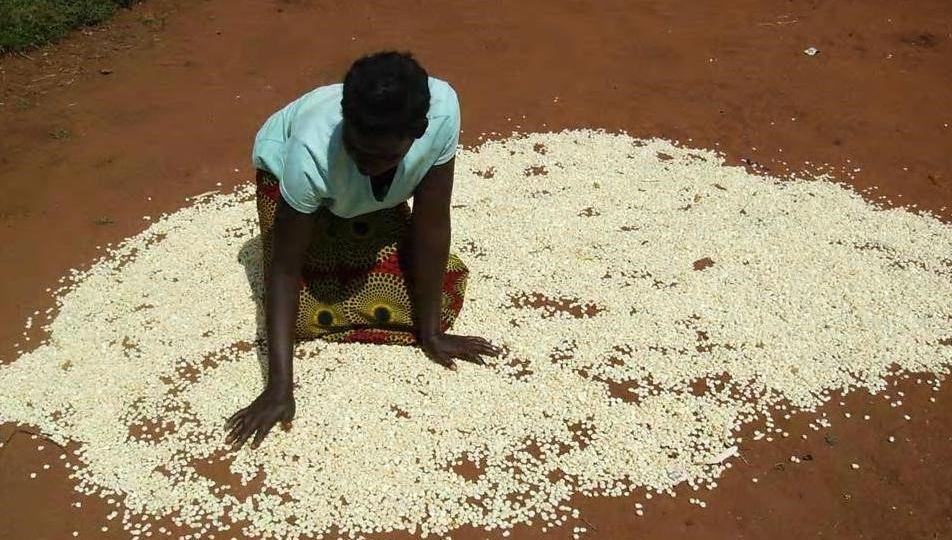 Post-harvest Uganda II
Lead Organization:
Makerere University
Partner Organizations:
National Agricultural Research Organisation - NARL, Volunteer Efforts Development Concern (VEDCO)
Community of Practice:
Countries:
Uganda
Duration:
8/2015—8/2018
Overview:
Grains and root crops are widely grown and consumed in Uganda. However, 19% of the Ugandan population is undernourished with half of those affected not having access to adequate amounts of calories. Malnutrition and under-nutrition among children under 5 years old is unacceptably high. The malnourishment is partly attributed to the nutritional inadequacies of traditional staples and partly to the seasonal food availability. This leads to cyclic abundance and shortage of foods in general, and of specific nutrients. Nutrition and incomes of farm families are limited by high postharvest losses, estimated at 10-15% for grains and 20-25% for root crops, resulting from improper postharvest handling. Poor postharvest handling also leads to low produce quality, with problems such as mycotoxin contamination being widespread. Application of good postharvest handling practices and processing has potential to contribute to improvement of product quality and stabilization of food availability. Processing could also be used to create products that address malnutrition. Through blending of starchy staples and foods with complementary nutritional value and application of suitable processing procedures, it is possible to develop nutrient and energy dense foods to supplement crop-based diets.The proposed project will build upon work conducted during a previously McKnight-funded project.  The team intends to investigate the current postharvest handling practices within the communities with which they were working, and to improve on these methods to reduce losses and wastage. The project will also address the safety of the foods.  The team will work with the community to devise processing options to enable people to transform crops into products that are nutritionally superior and have a long enough shelf life to tide families over seasons of shortage. Mothers and women will be a major target group for this project, as the products will mainly be produced for young children and infants who suffer most from malnutrition. The project also intends to build the capacity of the communities the work in and the extension services in matters related to postharvest handling of crops for enhanced food and nutritional security and income generation.
Grant Aims:
In line with CCRP strategies and utilizing a farmer research network model, this project seeks to engage rural men, women and youth farmers in testing and choosing postharvest handling methods that suit their circumstances. Moreover, it intends to test the effectiveness of farmer experiments in influencing farmers' knowledge, attitude and practices by comparing the approach to other technology dissemination approaches, including farmer-to-farmer extension.  The project aspires to enhance access to nutritious food products by developing and promoting processing technologies suitable for community level application. The project will work with stakeholders at all points in the value chain, emphasizing the diversity of post-harvest handling and processing  options available, educating on food safety issues and using a participatory development and testing approach to come up with nutritious blends based on the focus staple crops and other available foods. The latter is because simple processing methods can transform perishable crops into a range of storable, value added products. These can be used to meet the needs of expanding markets as well as to produce nutrient dense foods to supplement crop based diets. This is particularly important for infant and young children since these are particularly vulnerable to malnutrition. The project also has a strong emphasis on capacity strengthening and plans to strengthen the human capacity in postharvest technology and crop processing through training at different levels. For example, in addition to farmers, extension agents and trades, the project also emphasizes student training, with 2 persons trained at M.Sc. level and 4 at Bachelors' level. Students' training will emphasize aspects of participatory research, and cross-cutting issues including gender, spatial analysis and context by options considerations.
Outputs and Outcomes:
Outputs
Appropriate farmer identified post-harvest handling methods for selected crops;
Community developed procedures for production of nutritious food mixtures
Recommendations of appropriate technology dissemination approaches
Improved post-harvest handling capacities of farmers and other value chain actors
Institutional arrangements for dissemination of post-harvest handling technologies
Outcomes
Reduction in post-harvest losses and improvement in safety and quality of staple starchy foods. This is likely to contribute to reduction in disease burden and improvement in nutrition.
Improved market access and economic benefits to farmers by promoting appropriate post-harvest and processing methods through stabilization of agricultural produce, giving farmers the option of selling when prices are more competitive
Enhanced farmer capacity to improve the quality of their produce, helping them gain access to high value markets
Enhanced access to nutritious food products by developing and promoting processing technologies suitable for community level application.
Strengthened human capacity in post-harvest technology and crop processing through training at different levels
Farmers and other value chain actors empowered to engage in research and develop solutions to their problems