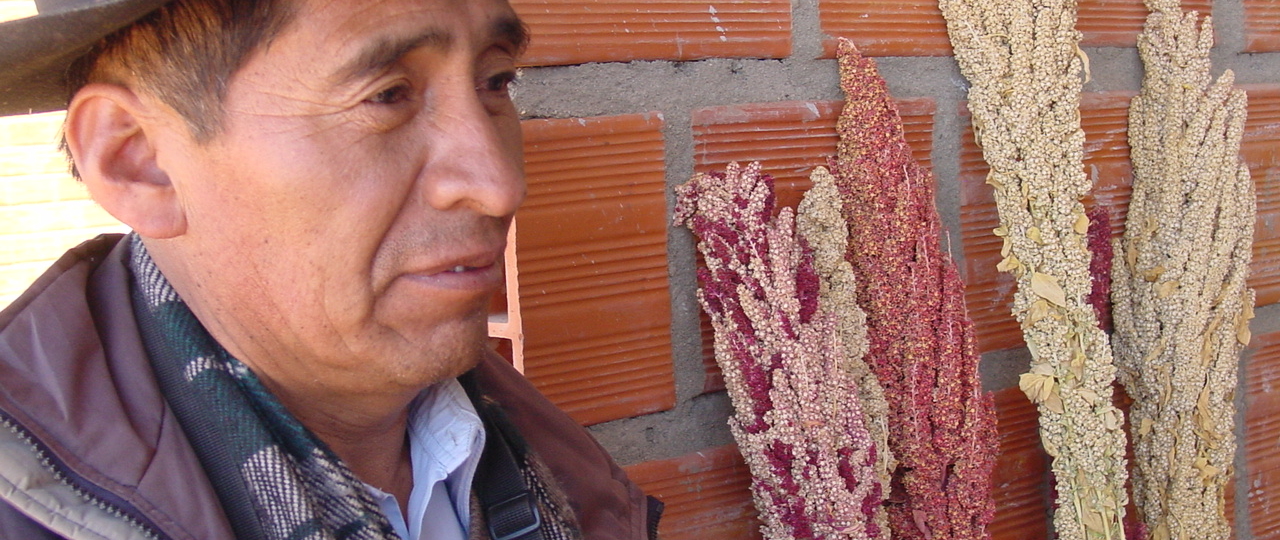 Quinoa IV
Lead Organization:
The Foundation for the Promotion and Investigation of Andean Products PROINPA
Partner Organizations:
Asociacion de Productores Agropecuarios Jocopampa ASPRAJO
Community of Practice:
Duration:
11/2018—11/2021
Overview:
Quinoa prices and exports from Bolivia skyrocketed during the 2008-2014 "quinoa boom," incentivizing farmers to intensify production and causing considerable damage to the fragile ecosystems of the highlands. Although income generated through quinoa sales enabled farmers to improve their living conditions (food security, education, health), it also led to desertification and reduced productivity in some areas. While high demand for quinoa remains, increased production in other parts of the world has caused global prices to fall from $5.71/ kilo to $0.85/kilo. Another development over the past two years is the modification of organic standards for quinoa (most of Bolivian quinoa is certified organic) to stipulate the need for soil health management. Thus, a demand has arisen for more sustainable ways to grow quinoa.The previous phase of the Quinoa project focused on the development of technologies for soil management based on native species. These strategies reduce effects of wind erosion and improve soil health. The project has also developed mechanisms to collect information on production problems through farmers' group monitoring, as well as participatory research strategies to support innovation among farmers. The present project seeks to build on the findings of the previous phase and to deepen research on agroecological alternatives for the management of soils, pests, and cropping systems to contribute to sustainable production of quinoa in Bolivia.
Grant Aims:
The Breeding Pipeline ToC talks about AEI systems breeding as a key CCRP response, this project is as the cutting edge of defining this concept. PROINPA's lead quinoa breeder, Dr. Alejandro Bonifacio, has developed an exemplary AEI-systems breeding program. In addition to developing one of the most popular quinoa varieties (Jacha Grano, which is resistant to mildew), Dr. Bonifacio's greenhouse and germplasm bank are full of other indigenous species being selected and propagated, including native potatoes, amaranth, native succulents and perennials, and medicinal plants. Similarly, the integrated pest and disease management program incorporates habitat and landscape management concepts. For example, two types of quinoa moths will be monitored to find out what their natural predators are and what plants those predators prefer. The research on a variety of topics within the altiplano agroecosystem provides insights on how AEI levers work within the system and across a landscape. Moreover, in the next phase, the farmer network will provide a platform to use planned comparisons to generate relevant options for distinct contexts, not only for the quinoa network, but also linked networks such as those connected to the PROINPA and UMSA projects.
Outputs and Outcomes:
Identify, validate, and disseminate practices and strategies for soil management and agroecosystem design for quinoa production systems.
Identify strategies for integrated pest management for quinoa production systems in the southern and central highlands of Bolivia
Identify potential traits in quinoa to improve the design of sustainable production systems (perennial traits, drought tolerance, wind abrasion, and grain shedding).
Implement participatory innovation strategies that expand the use of new technologies for the sustainable management of quinoa production systems.