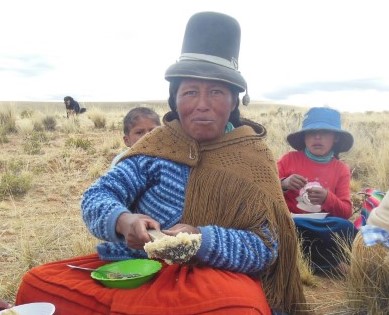 Supply Security and Sustainable Livelihoods
Lead Organization:
Root Capital Inc.
Partner Organizations:
APQC, APROCAY, Jacha Inti (JISA), CADEQUIR
Community of Practice:
Countries:
Bolivia
Duration:
11/2014—11/2015
Overview:
This project contains two related evaluative research components that will inform Root Capital (RC), their partners, and others on relevant and appropriate delivery of support for successful and viable rural enterprises. The first activity is an action-research project to implement and assess the value of training quinoa farmers' organizations in financial analysis services (FAS) provided by RC. This activity will allow RC to adapt their financial analysis services curriculum to quinoa production (originally designed for coffee organizations.) The second component of the project supports RC to strengthen the capacity of a cross-sectoral partnership of four quinoa farmer associations that supply quinoa to agro-exporters, and evaluate the effectiveness of the process.
Outputs and Outcomes:
An evaluation study with a comparison consisting of unaffiliated quinoa farmers in Bolivia (53)  as well as  those that  belong to associations that sell organic or in transition quinoa to the exporter Jacha Inti (n=123), showed that association membership was correlated with self-reported quality of life improvements, access to higher prices, higher rates of participation in agronomic extension services  (70%), productivity increases, and increases in the application of agricultural practices linked to soil health (organic fertilizers) and productivity. A further explanatory factor associated with membership is organic certification, which influences the higher prices and agronomic practices.  Member farmers receive a  voluntary organic premium of $15-30 per 45 kilos from the exporter Jacha Inti.. However, this doesn't often translate to higher income — 72% of one of the association's members sell 100% of their production to intermediaries because they pay cash upon delivery. Root Capital financing has reduced the amount of time producers must wait to be paid, though payment is still not immediate (usually around 2 weeks).The study found that quinoa production is evenly distributed among men and women, and associations offer members equal access to services and benefits. However, most associations are comprised primarily of men(50-90%), and more women don't participate because they don't have the time or their husbands prefer that they don't. Also women often feel intimidated to talk at the meetings. Contextual scaling: Key actors/ users of impact study Andean Naturals (quinoa importer based in US)  and Jacha Inti (quinoa exporter based in Bolivia) have a longstanding commitment to gender equity, and the impact study gave them a better understanding of the challenges women face and opportunities to address them. Using the focus groups results, Andean Naturals' Andean Family Farmers program developed a proposal to fund a program aimed at strengthening women's roles in their associations and communities, forming strong leaders, and empowering women to be actively involved in decision making (potentially 1000 families).Technical assistance was the service most requested by association  members. Interestingly for FRNs, findings suggest that there is a need for improvement in both the quantity and quality of extension provided. Focus group sessions reinforced this finding, with members asking both for more frequent and more practical (less theoretical) trainings. Finally, members asked for changes a greater emphasis on pest management and fertilizer use (versus adapting to climate change, commercialization or irrigation, which scored much lower in importance). Contextualized scaling: the study results have motivated Jacha Inti to perhaps provide more technical assistance to Cadequir.According to key private sector informants in Bolivia the "quinoa boom" – the rise in prices that has accompanied the growing demand for quinoa – has lifted many producer families out of poverty. Despite these purported gains, many quinoa producers live in moderate poverty. To assess the poverty levels of producer households,  the Bolivian Progress out of Poverty Index® (PPI®)  was administered  as part of the farmer surveys. It was found that 32 percent of members are living on less than $2.50 per day.  When asked if they had experienced food insecurity in the past year, 13 percent of members responded yes. This percentage is likely lower than it would have been five or ten years ago. Of the 56 producers who were asked about their quinoa consumption compared with 10 years ago, 36 percent reported an increase, 36 percent reported a decrease, and 28 percent reported no change. Those who consume less cited several motives for doing so. One is that, like consumers everywhere, they prefer a varied diet, and with the price increase they can both afford to purchase other foods, and are able to buy more of other foods, as quinoa is more expensive than rice and noodles. Another reason cited, especially by women, is that quinoa preparation is very labor intensive.
Resources