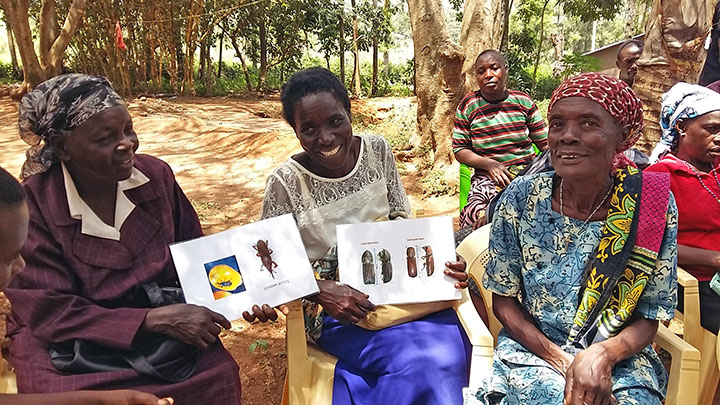 FRN-NGO II
Lead Organization:
Agriculture Improvement Support Services
Partner Organizations:
Community Rehabilitation and Environmental Protection programme (CREP), Rural Energy and Food Security Organization (REFSO), Community Action for Rural Development (CARD), AVENE, Agriculture and Extension Programme (AEP)
Community of Practice:
Countries:
Kenya
Duration:
11/2016—11/2018
Overview:
Smallholder farming communities in western Kenya face numerous challenges that impact their production systems: scarcity of land and/or water resources, declining soil productivity, pest and disease complexes, land degradation and subdivision, limited access to resources by women, and changing climatic conditions. Yet the formal research and extension system only offers farmers generalized recommendations that do not take into consideration high spatial variability in soil types and fertility levels, spatial variations in climatic conditions, and how these interact to influence the incidence and severity of pests and diseases. Therefore, there is a need for more inclusive research approaches that involve farmers and are responsive to their unique social and agroecological conditions. In addition better responding to farm level variability, involving farmers in the research process brings other advantages. These include a stronger sense of farmer ownership of emerging technologies, incorporation of farmers' ideas and innovations into the technology development process; opportunities for experiential learning by farmers, which improves their perceptions of the emerging technologies and their potential to influence other farmers to adopt them. Bringing to bear these advantages can contribute to greater impact across the communities.
Grant Aims:
During the project's inception phase, a farmer research network (FRN) was designed and established as an approach for involving farmers in research to address their farming challenges. The FRN featured farmers and farmer groups that are geographically distributed across the region, supported by five NGO partners that have sub focus areas. In the prior phase, the project network's farmers successfully piloted the testing and evaluation of selected pest control methods on stored food grains, as well as the evaluation of sorghum varieties. The current project seeks to deepen work with the established FRN to undertake a variety of research activities meant to address their prioritized challenges in agriculture.The project aims to strengthen its FRN as a platform through which area farming communities are involved in the identification, development, testing, and dissemination of suitable technologies so as to increase productivity and add value within an agroecological intensification (AEI) framework. The platform explicitly involves farmers from different socio-economic and agroecological zones across the region. They participate in the design, implementation, analysis, and communication of outcomes of diverse research activities, testing options for addressing the priority challenges across the region. In the process, they are also able to identify appropriate technologies for their own unique socioecological conditions. In cooperation, the NGO partners provide the farmers with technical support and facilitate linkages between the farmer groups and research partners to enable identification of research needs, procurement of research materials, and design of suitable participatory research approaches. During the next phase, the project specifically aims to: increase the diversity of crops and varieties grown at the farm level; implement trials that integrate improved crop management practices and soil health technologies; promote crop-livestock integration through testing diversified fodder sources for increased livestock production and utilization of livestock manure for more efficient and effective nutrient cycling; and minimize postharvest losses and mycotoxin contamination of stored grains.
Outputs and Outcomes:
Expected outcome
Better utilization of agricultural technologies by farmers leading to higher farm productivity, household food security, better human nutrition and health.
Established and functional farmer research networks
Strengthened capacity of FRN partners to effectively operate in the network
Measurable outputs
Enhanced development and faster diffusion of promising agricultural technologies
Increased crop diversity at farm level
Increased uptake of improved post-harvest technologies for enhanced food and nutritional security
Identification and documentation of policy issues affecting farmer research undertakings
Resources