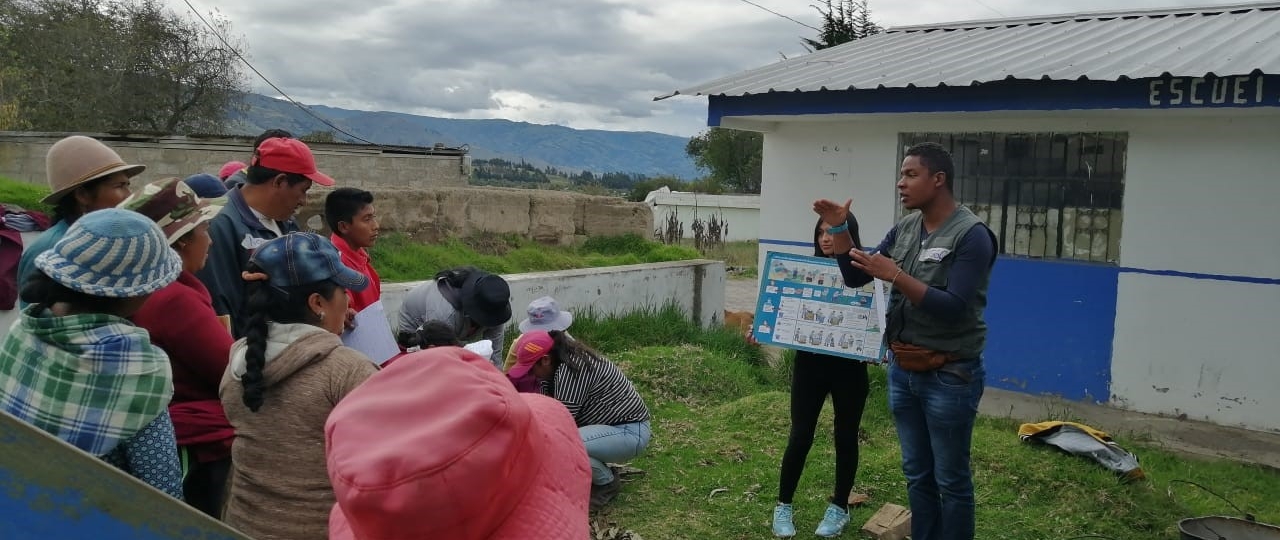 Next Generation Profile: Diego Fernando Mina
Published on:
June 23, 2020
Community of Practice:
Diego Fernando Mina of Ecuador began studying agronomy in high school, going on to graduate from university as an agricultural engineer. Now working toward his MSc in agronomy with a mention in agroecology and plant health at Pontifical Catholic University of Ecuador, his goal is to integrate participatory research focused on the promotion of agroecological systems.
Diego is particularly interested in the use of new technologies and agroecological crop management focused on controlling insect pests. He has worked directly with Andean crops produced in the central-northern sierra of Ecuador. Mina appreciates the benefits of teamwork for its interdisciplinary component and the differing opinions and knowledge that enrich everyone's overall knowledge.
He is currently working to strengthen individual and collective learning experiences with farmers with a focus on entomology (e.g, pest management, beneficial insects, knowledge of pollinators) and the networks of exchange that can be cultivated through such processes.
What CCRP projects were/are you involved in, and how did you contribute?
First I was linked to INIAP (Ecuador's national institute for agricultural research) as a thesis adviser with a project on research, promotion, and consumption of Andean grains. My work was around improving a variety of quinoa and, later, the biological control of pests in lupine.
I then had the opportunity to learn and share the project team's experiences with integrated pest management strategies in lupine (LEGUMIP). My role was to conduct studies on insect biology and ecology, develop integrated pest management strategies, and socialize and validate the strategies and knowledge with farmers.
I am currently involved in the Agroecological Management of Crop Insects: Toward a Sustainable Collective Goal for Farmers (AMIGO) project. My work is aimed at strengthening individual and collective learning experiences with farmers, particularly as they pertain to entomology
How has CCRP/McKnight impacted your education/career, and how has that support affected you personally, as a leader?
Indirectly, almost all my career development has been linked to projects supported by the McKnight Foundation. It has been a learning experience at all levels, starting by learning to develop a taste for doing research, through understanding farmers' realities, and translating it all into a scientific article. The experience has made me reflect on the world in which we live, especially the world of small farmers, who today more than ever are the heroes of the big cities where we live. This has awakened in me the need to provoke paradigm change in how to produce our food, promoting a healthier and more sustainable agriculture.
What are your next steps?
My first objective is to finish my master's degree, strengthen my experience with learning within the AMIGO project, and consolidate enough knowledge to start a PhD plan. Unfortunately, in Ecuador there are not many fronts from which to do research, so one option could be to apply my knowledge to projects that carry out research at local or regional levels. However, if there is an opportunity to link to the academy, I would like to share my knowledge with the next generation of students in the agricultural sciences.